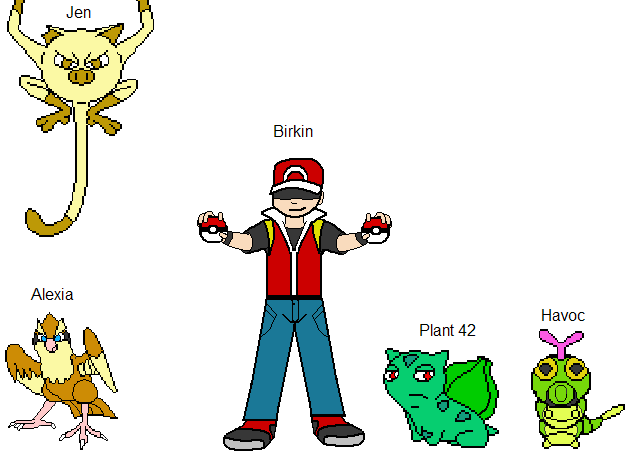 So you wannna be the master of pokemon
Understand the secrets and have some fun
So you wannna be the master of pokemon
Do you have the skills to be number one
Number one?
Son, you have no clue! I hail form the town of Pallet! But I'm getting ahead of myself.
I am Birkin! I decided to become a pokemon trainer because it seems like a cool thing
to do these days, but my faggy rival Trigger went and became one too! D:< Goddamned
copycat!
Anyway! Prof. Oldfart let me pick my first pokemon, and I chose a Bulbasaur that I named
Plant 42! After that, I was challenged by Trigger to a battle, which of course I accepted and
promptly put his flaming lizard back in its place! I collected my dough and was ready to start
my journey! I headed north and found Viridian City, the place smelled of old people and shame.
I hit up the pokemart and would you know it? I got shoehorned into running an errand! What
the fuck?l Why do we keep these faggots around for? So I dubstepped back to pallet and I dropped
off the Professors package, in return I got a handful of balls and ANOTHER FUCKING TASK!
Turns out the Old Fart thinks that there are only 150 pokemon in the world and his dream as a
child was to catalog all of them but well, I guess he got side-tracked porking his Grandson's
Grandmother and is now too old to finish the job himself, so now I gotta do it! Whatever, I got
this kickass new Iphone to boot. I guess I can amuse the old fucker for now.
I left pallet a second time and headed north, along the way I ran into a feisty little Pidgey that I
had to have! After a quick battle, Alexia joined my team! When we reached Viridian city, we took
a Detour to the west. I've been told that this route leads to the Indigo Plateau where the Elite Four
reside. One day, I will make the pilgrimage for myself. While I was there, I caught a Mankey that
I named Jen. She seems to resent me for some reason and she always tries to kick me in the nads.
What a bother.
I mulled about the area for a bit to properly train the three of them and things were going fine til
that faggot Trigger showed up again! He immediately challenged me to a battle! In typical faggot
fashion, he caught a Pidgey just like my Alexia and some how he had gotten her to level 9! Now
that I think about it, his bird seemed to be pretty muscular for something so small.. I suspect fowl
play. Nevertheless, he only had the Pidgey and his Failmander and I promptly beat them down a
second time and then made my way back to Viridian. After a quick stop at the PokeMart and the
Center, I headed north towards Viridian Forest. Or rather, I would have if not for being stopped by
some old geezer who INSISTED on teaching me how to capture pokemon, even though I showed
him Alexia and Jen.
After getting past him, I made my way into the Viridian Forest. The place was a lot denser than I
had expected and a few people in the gate house warned me of poisoning, good thing I brought
some Antidotes. I've heard that there are Pikachu here, too.. I had hoped to find one to help round
out my team, but all I got was this firebrand Caterpie. I named him Havoc, because there was this
look in his eyes. I dunno what it was, but it struck a cord with me.
I think I'll spend some time in the forest. improving upon my skills and getting my pokemon a bit
stronger before we head for Pewter City and my first Pokemon League Gym Challenge with the
infamous Brock.